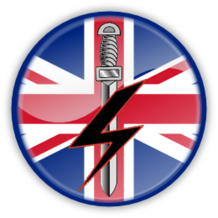 "Grouping together this nations best special forces operators under the UKSAF"
The United Kingdom Special Airsoft Forces (UKSAF) is the parent organisation of all the British special airsoft forces and has the capability to provide a Joint Special Operations Task Force Headquarters. UKSAF is commanded by the Director of Special Forces (DSF).
Formation
Edit
UKSAF was formed in 2010 to draw together the Airsoft Task Force's 3rd Strike Regiment (3 SR) and the 19th "Strike Force" Regiment (19 SFR), into a unified command, based around the former Director A.T.F who was given the additional title of Director Special Forces. The directorate has been expanded by the creation of the Airsoft Task Force Command (A.T.F.C), the Elite Airsoft Commandos (E.A.C) and the Special Arctic Airsoft Force (SAAF).
Roles and tasks
Edit
UKSAF assets undertake a number of roles, with a degree of interaction and interoperability:
Reconnaissance of the deep battlespace
Offensive operations in the deep battlespace
Battlespace preparation in transition to war
Infrastructure disruption
Capture of subjects of interest
Human intelligence (HUMINT) collection
Defence diplomacy
Training of other nations' armed forces
Special Forces units
Airsoft Task Force
Edit
Airsoft Task Force Command
Edit